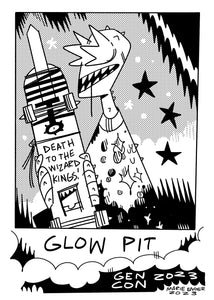 Marie Enger
CLASS PICTURE - GEN CON 2023
Regular price
$50.00
$0.00
Unit price
per
3 sold of 24
This product will only be produced if at least 24 units are supported by August 07, 2023 00:00 (Central Time (US & Canada))
Calculating time remaining
Omg - are you gonna be at GEN CON? ME. TOO. Booth 2635? Oh yeah, I'll see you there - I'm taking class pictures! I'm making a LIVING ZINE. 

Come, sit down in front of me. Roll some dice, answer some questions, and walk away with not only a shiny new TTRPG character to take into all your GEN CON games, but ALSO an NPC for folks to take into their games! 
You'll get:
1. To play test Death To the Wizard Kings! 
2. A character sheet with original art drawn directly on it, as we talk, by me! Marie Enger!
3. A copy of your CLASS PICTURE (via e-mail - it's a digital commish). 
4. A copy of the VAT SPAWN - Class of Gen Con 2023 NPC Yearbook - a veritable who's-who of Gen Con Vat Spawn! 
WHAT IS A LIVING ZINE? 
It's a zine you watch me draw and write over the course of Gen Con! It's cool - I promise. 
MARIE - I'm not gonna BE at Gen Con! 

Then you're not gonna get to play test the game - but you can still roll a bunch of dice, answer a bunch of questions, and get yourself items 2-4 from the list above.  I'll be in touch via email. 
---